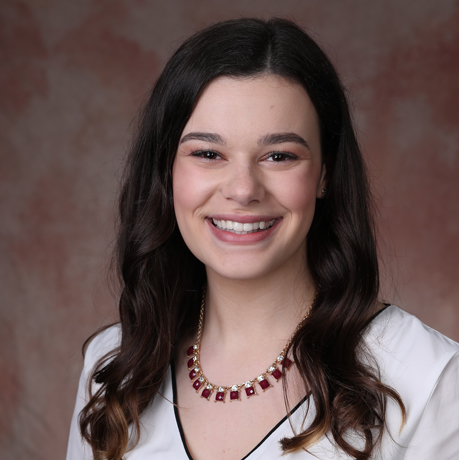 For Amy Solov '19, the path to success began as soon as she set foot on Bryant's campus.
"When I was looking at colleges, I went to Bryant's Scholarship Dinner and spent the entire night talking with Professor Susan Baran about everything that I hoped to do someday. And she told me how she was going to work with me to help me get there," Solov remembers. "I drove home that night thinking, I'm absolutely going to go to Bryant."
Four years later, she's accomplished more than she ever imagined. Solov gave a talk at Bryant's TEDxBryantU 2019 event, climbed the Great Wall of China, wrote a novel, and was accepted into Oxford University's prestigious and highly competitive Columbia Publishing Course. "You can make your Bryant experience anything you want it to be – and if it's something no one's ever done before, you can be the first," Solov explains. "There are people here who will support you in anything that you want to do, and help you take your crazy ideas and make them into something real."
Solov's strategy included pairing her Communication major with a minor in Marketing, which came in handy when she applied for the Columbia Publishing Course. "When they called me to tell me I had been accepted they said that they were very impressed that I had a background in business as well as writing," she says.
Of everything she's done at Bryant, Solov is perhaps most proud of the novel she wrote for her Honors thesis. A lifelong ambition of hers, the novel was the first such project done through the program. "I actually had people come up to me and say that they were inspired by my capstone to work on their own writing projects, or to go on and do some other thing they've always wanted to do, " says Solov.
She's glad she's able to inspire others as she was inspired. "I think that's the thing about Bryant," she reflects. "It really sets you up to achieve your goals and build the path to them ­– no matter what they are."
Real World Experience
Honors Program
Member, Honors Program
• Wrote and edited a full-length novel as her Honors Thesis project

Study Abroad
Lorenzo de' Medici Institute; Florence, Italy
• Studied Florentine culture through Italian TV broadcasting, language, marketing strategy, history, and cuisine

Leadership
Master Writing Consultant, Academic Center for Excellence at Bryant University
• Head tutor at the Writing Center, managed and oversaw operations, including scheduling for employees and hiring
• Led a mentorship initiative for English as a Second Language (ESL) students
Internships
Executive Team Leader Intern, Target Corporation
• Shadowed Human Resources, Asset Protection, Logistics, and Sales Floor operations within a top-performing Target store
• Led and motivated a team of more than 100 employees
• Helped drive sales results, assist with hiring and recruitment, merchandise products, interact with guests, and strengthen decision-making skills

Co- Founder and Head of Public Relations, Off the Hook Walking Tours
• Managed all public relations and marketing, including website content and social media accounts
• Utilize business development strategies to promote the business

Intern, The Gloucester Writer's Center
• Wrote for and edited the Center's 2017 annual report
• Interacted with local and national writers and poets who utilize GWC services, helped facilitate readings

Mentoring
Mentor, Bryant University IDEA (Innovation and Design Experience for All) Program
• Mentored first year students in design thinking
Student Teacher | Innovation Nation
• Taught design thinking to student at the Lincoln School, an independent, all-girls college preparatory school in Providence, RI

Campus Media
• Copy Editor: Variety and Sports, The Archway
• Edited weekly articles for the campus newspaper
• Attended journalism and editing workshop at The New York Times
A Connected Community
Bryant's purposeful student life delivers co-curricular immersion with an inspiring, collegial community. Students forge deep connections that last a lifetime.