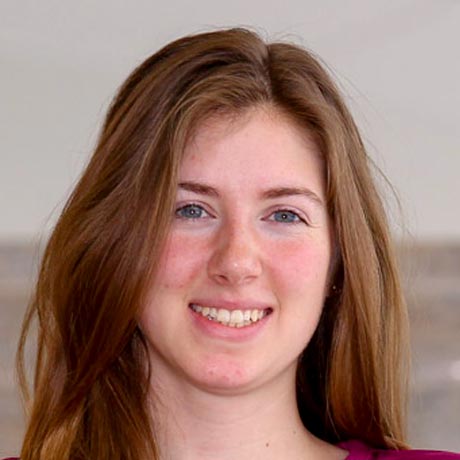 "I want to make the most of my four years of college," says Caroline Meizen '21, "and that means challenging myself and exploring." A Marketing major concentrating in Sports Studies, Meizen says that adaptability is a key to success. "You need to be open to what's around you. There will always be changing methods and new advances in any field."
For Meizen, exploring means jumping at new opportunities, including being part of the student government's Ways and Means Committee, where she helps make decisions that shape Bryant, and striving to get the most out of her courses ­– including her first year Global Foundations of Business (GFOB) class where she served as marketing director for her team's simulated start-up.
In GFOB, Meizen was introduced to the concepts that will define her major, as well as how to run a business and how to work as a team. She also learned to not be afraid to ask questions. "Asking a question is the best way to learn, and my professor encouraged it," she says. "And if you're asking for help, there are probably other people in the class that have the same question."
A member of the Honors program, Meizen values the opportunities the program offers to dive deeper into her studies. "My Honors courses challenge me and surround me with students who are just as determined," she says. "We get the chance to work on hands-on projects and apply what we're being taught to the world outside of Bryant."
Meizen's recent Sophomore International Experience trip to Argentina and Chile – the first time she's ever left the country – has inspired her to continue traveling the world. "The trip was so eye-opening," she says. "It's good to be able to step out of your comfort zone."
That's one of the biggest lessons she's learned at Bryant, Meizen says – having the initiative to try something new can open so many doors. "I love running but I didn't know if I would be good enough to go D1," she says. "But I decided to go for it and now I'm so glad to be part of the Cross Country and Track Teams. My teammates are like my second family."
Real World Experience
Leadership
Ways and Means Committee member
• Helps determine budgeting and programming decisions affecting the student body

Student Ambassador
• Serves as a resource for prospective students and their families by leading tours, providing information about the University, and sharing her experiences as a student
Study Abroad
Sophomore International Experience
• Traveled to Uruguay, Chile, and Argentina to immerse herself in the cultures of other countries and learn how businesses operate globally

Bryant Athletics
Cross Country and Track
• Competes on Bryant's award-winning Division I team

Game Day Management Team
• Assists with sales, promotions, and logistical issues to ensure that game day operations run smoothly
• Manages team store
Honors Program
Member of the Honors Program
A Connected Community
Bryant's purposeful student life delivers co-curricular immersion with an inspiring, collegial community. Students forge deep connections that last a lifetime.