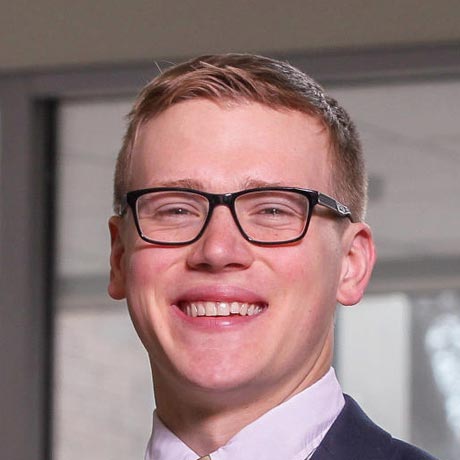 In his four years at Bryant, Shane Vyskocil '19 has done a lot, swimming with the NCAA Division I Men's team, tutoring students at the Academic Center for Excellence, interning with New Jersey Congressman Rodney Feylinhuysen (R), and working as a research assistant with internationally-renown Holocaust expert Professor Michael Bryant, Ph.D., – all while maintaining a 4.0 GPA. Vyskocil's taken all of those disparate experiences and influences, he says, and combined them into one big picture that's prepared him for a bright future.
"A good education is about more than learning facts. It's about learning the best ways to solve problems and being able to apply that to all sorts of different scenarios," Vyskocil explains. "You need to be flexible to be successful in life."
Take his coursework for example: a mix of economics, politics and law, and finance that's preparing him to formulate public policy – and to make sure it works. Studying with professors such as Edi Tebaldi, Ph.D. whose extensive experience includes working with the World Bank, helped Vyskocil build the skills to support his ideas. "Having professors who understand that big picture application is really important," he says. "Professor Tebaldi's able to add a real-world aspect to everything he's teaching,"
As a senior, Vyskocil secured a position as an incoming Economic Associate at Regional Economic Models Inc., a firm that works to improve public policy through testing the economic effects of various decisions against high-level models. As part of the interview process, he had to make a presentation and chose to adapt a project he had done in his Economic Growth and Policy class about the Greek economy. "I think they were pretty impressed," Vyskocil says.
His new job he says, is a perfect fit. "I want to do something that has an impact, and public policy directly affects so many people," says Vyskocil. "It's something I'll feel good about doing."
Real World Experience
Internships
Government Affairs Intern, New Jersey Business and Industry Association
• Conducted quantitative and qualitative research on: New Jerseys postsecondary education, state initiatives for innovation and economic development, fiscal policy, tax legislation and health care regulations
• Compiled analysis on these policy issues to communicate with task forces of NJ employers and businesses
• Monitored and documented the status of various legislative bills at committee hearings for the lobbyist team

Congressional Intern, The Office of Congressman Rodney Frelinghuysen
• Helped connect constituents them with federal resources
• Drafted congressional record statements for Congressman Frelinghuysen
• Researched and composed event calendars to integrate into Congressman Frelinghuysen's schedule

Research
Research Assistant for Michael Bryant, Ph.D.
• Conducted primary and secondary source research regarding the Nuremburg trials and international law
• Wrote synopses involving the original transcripts from Nazi war crime trials for Bryant's book project

Leadership
Student Representative for the Politics and Law Department, Dean's Advisory Council
• Represented the Politics and Law department at monthly meetings with the Dean of the College of Arts and Sciences and department chairs

College Reading and Learning Association Certified Peer Tutor, Bryant University Academic Center for Excellence
• Tutored students in economics, calculus and statistics

Bryant Athletics
NCAA Division I Men's Swimming
• Competed with the Men's Swimming team
• Member of the MAAC All-Academic Team

A Connected Community
Bryant's purposeful student life delivers co-curricular immersion with an inspiring, collegial community. Students forge deep connections that last a lifetime.