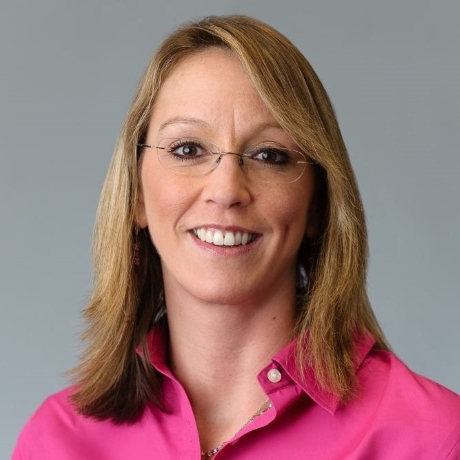 Danielle Palmer started her career journey straight out of high school and quickly learned education was key to growing her professional opportunities. She earned her bachelor's degree as an adult, then became a full-time working mom trying to balance career and family. After working her way up to a senior manager role at her current company, Palmer realized she had hit a plateau. She enrolled in the Online MBA program to pursue a new challenge and create opportunity.  
Why did you continue your education at Bryant University? 
I think the biggest challenge for women is passing up career opportunities and being seen as stale in the marketplace. I definitely hit that wall, which is part of the reason I'm going back to school.
When my company offered me a new role, I received a ton of training, and it brought back that desire to invest in myself. Once that training was done, I thought, "Okay, what do I do next? How do I take my career to the next level?" By investing in my master's degree. I haven't thought twice about my decision since I enrolled. 
What are a few highlights of your experience? 
I love the experience of working with other professionals. Not only am I making connections with my professors, but I'm also making connections with my classmates. When you're feeling really stressed, it's nice to lean on them and ask, "How are you managing two kids and a household and work and school?" You really get a sense of community in addition to the experience of getting your degree.  
Another nice thing about the program is the consistency between the classes and how they're designed. That's extremely helpful because you're not starting a new class and figuring out a new technology or structure. It makes it so much easier to go from one course to the next. 
What skills are you looking to add through the program?
There's such value in working and going to school — to apply the real-world experience to your job. That really opened doors for me. I think about the Global Business class. I was supporting a client based in the U.S. that moved to include all of the Americas. Now I'm getting an understanding of how those economic indicators impact those countries. That class has been so valuable. I feel more knowledgeable and can add to the conversation at work. You don't realize you're learning until you go back to work and suddenly you understand more.
How do you hope this program will impact your career? 
Education is a key driver in getting your foot in the door, and then also growing your career. I'm a senior manager, and the next role for me would be the director level. The difference between senior manager and director is the responsibility for not just deploying something, but creating the strategy. My classes are getting me to feel comfortable stepping into a role and saying, "I can create a strategy now."
Why would you recommend investing in Bryant?
If you're looking to be part of a community, this is the program for you. Between the professors and the administration, everyone is championing for you to be successful. You will be recognized as an individual. You are part of a family.
 
A Connected Community
Bryant's purposeful student life delivers co-curricular immersion with an inspiring, collegial community. Students forge deep connections that last a lifetime.