Sociology
Engage with faculty experts who bring a multifaceted approach to our dynamic Sociology program as you hone your analytical skills. Offered as a major and minor.
Program Overview
Explore your interests and develop your writing skills as you study topics including contemporary social problems, health care, overpopulation, race and society, and sport and society. The perspective you gain regarding people and social relations will apply to any profession.
Engaged learning with the opportunity to explore social data analysis and popular media analysis in several courses.
Collaborate with faculty mentors on directed study or capstone projects that require intense research, sometimes involving direct work with nonprofit and governmental organizations.
In your capstone, explore a topic of your choice with a faculty member as you create a distinctive body of work that will help set you apart from the competition.
Engage in meaningful internships with community resources where you to apply theory and principles.
Present original research at national conferences such as the New England Undergraduate Sociology Research Conference.
Outstanding Sociology students may join Bryant's chapter of Alpha Kappa Delta, the international sociology honor society.
INTERDISCIPLINARY ADVANTAGE
A strong foundation integrating business, STEM fields and the liberal arts develops critical 21st century skills essential for success and continuous growth in every field.
Every student graduates with a major and a complementary minor, gaining a competitive advantage that highlights the acumen and problem-solving abilities cultivated through experiential learning.
Whether you begin a career or continue your education after graduation, Bryant credentials prepare impact thinkers who are in high demand and prepared to contribute and make a difference.
The Bryant Difference
99%
99 percent of Bryant graduates are employed or enrolled in graduate school within six months of Commencement.
No. 7
U.S. News & World Report 2023 Best College rankings list Bryant as No. 7 in the Regional Universities North category.
Top 1% ROI
For lifetime earnings and ROI -- Georgetown University CEW
Where Our Students Go
Graduates of Bryant's Sociology program go on to prestigious graduate schools and are in demand by business, government, and nonprofit organizations.
Adoption Rhode Island
Boston Women's Workforce Council
Emerson Hospital
HB Communications
Irwin W. Steans Center at Depaul University
Michigan House of Representatives
Oakland Athletics
Peace Corps
Providence Children's Museum
Rhode Island Republican Party
Sachem Center for Health and Rehabilitation
Toyota Motor Corporation
Boston College
DePaul University
Fordham School of Law
Roger Williams University School of Law
Suffolk University School of Law
Wake Forest University School of Law
Experiential Learning Opportunities
CAREER EDUCATION OPPORTUNITIES
Shadow and network with accomplished Sociology alumni to explore different paths.
Sociology internships in various sectors obtained through our nationally recognized Amica Center for Career Education.
Discuss career opportunities with recruiters from 400+ prestigious organizations at on-campus career fairs.
CLUBS/ORGANIZATIONS
Active Minds
Alpha Kappa Delta international sociology honor society 
SPEAK
SustainUS
SERVICE
Mentoring in local schools
Organizing Relay for Life
Leading the One Campaign and Circle Up
INTERNATIONAL
Sophomore International Experience
Study abroad during your junior year
RESEARCH
Research and Engagement Day panelist
Present original academic research at the annual New England Undergraduate Sociology Research Conference
Inspired Faculty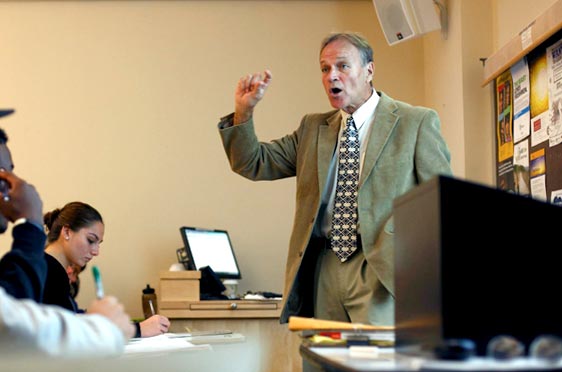 Inspired Faculty
Our inspiring faculty are nationally-recognized authors, award-winning educators, and mentors with mastery in a range of subjects, including race, gender, and inequality issues, gun control, sport studies, immigration in Brazil, and HBO's series The Wire. They include national leaders in community-engaged learning. Among them is:
Professor of History and Social Sciences
Address
1150 Douglas Pike
Smithfield, RI 02917
Phone Number
(401) 232-6100
Email
admission@bryant.edu