Study Abroad
Experience another country's culture through one of more than 50 partner programs on six continents.
Study Abroad Offices
The Study Abroad Office staff can help you find the program right for your interests, budget, and time frame.
1150 Douglas Pike
Smithfield, RI 02917
Cross-cultural experiences can enrich your education—and your life. When you study abroad for a semester or even a year, you'll live and learn among other students from around the world. Choose from dozens of destinations: "across the pond" in the United Kingdom, "down under" in Australia, and more.
Sophomore International Experience
When it comes to transformational academic programs, our students frequently cite the innovative Sophomore International Experience (SIE), during which you'll learn firsthand about the cultures and commerce in other countries.
The three-credit course begins the semester before departure with an introduction to the cultural norms, historical reading and analysis, language study, and art appreciation of the country or countries that will be visited. The actual two-week trip takes place during winter or summer breaks.
Having this experience early in your academic career may inspire you to pursue additional study abroad and/or an international internship: 44 percent of Bryant students who choose to study abroad for a semester or a year have first been on an SIE trip. 
The cost of the Sophomore International Experience is $4,500. A limited amount of financial aid is available through Santander Universities International Experience grants. To be eligible, grant applicants must demonstrate eligibility for need-based federal financial assistance as determined by the Office of Financial Aid.
Semester Programming
To apply for a semester-long study abroad program, you must have a cumulative GPA of 3.0 or greater at the time of application, and you must maintain it throughout the semester before going abroad. The earliest semester you can study abroad is during the second semester of your sophomore year, but you would need to start the study abroad process at the very beginning of the previous semester.
Global Economy and Bryant
The Bryant education cultivates an understanding of the interconnectedness of world cultures and economies.
Global Perspectives
U.S.-China Institute
The U.S.-China Institute and Confucius Institute lead development of educational and cultural programs between China and the U.S.
Our U.S.-China Institute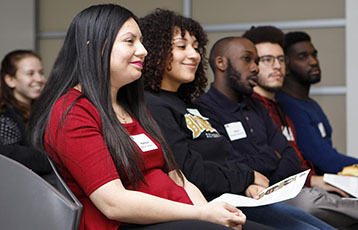 Diversity at Bryant
We're proud of our open and welcoming campus, a place enriched by the unique life experiences everyone brings to our community.
Our Inclusive Community