History, Literature, and the Arts
About this Department
The History, Literature, and the Arts Department encourages exploration of the past, the written word, and the creative expressions that converge to shape our understanding of the world. We support you to think beyond your own experience and recognize how your ideas and actions shape the world in which we live.
Our graduates embark on diverse career paths that value critical thinking, research skills, and an appreciation for culture and the arts. They find success in academia, publishing, journalism, museum curation, arts administration, and more. 
In a vibrant community where ideas are exchanged and originality thrives, celebrate the richness of creativity, unravel the intricacies of our past, and discover a vibrant future shaped by knowledge, imagination, and the power of storytelling. 
Engage with Faculty Experts
Embark on your academic journey with the guidance of engaging faculty scholars, accomplished writers, and seasoned artists. You may focus studies on an intriguing aspect of cultural analysis; unravel history through archival research in world-renowned library special collections; or even develop a portfolio of creative production, including critical and creative writing, video, performance, and photography.
Experiential Learning Opportunities
Our department offers a vibrant learning environment beyond the classroom. Contribute as a writer or an editor to the Bryant Literary Review, an acclaimed international journal of poetry and fiction. Present creative and critical work through theater, special events, and Pop-Up Gallery Nights. Or engage with working artists through workshops and lectures in a senior practicum course.
Research and Engagement Day
You have access to world-renowned libraries, archival resources, and digital databases that facilitate research and scholarly collaborations. Many of our students participate in Research and Engagement Day, a Bryant showcase that highlights student and faculty research collaboration, creativity and innovative academic accomplishments.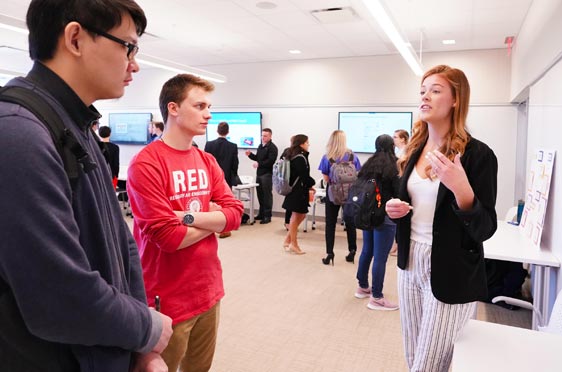 Inspiring Faculty
Our faculty includes accomplished authors, artists, and researchers as well as two Fulbright Scholars. These award-winning educators and mentors specialize in areas as diverse as political satire, women's studies, African popular culture, Asian American literature, comics and graphic narratives, philosophy, and visual art. Among them is:
Professor of English and Cultural Studies
Department Chair
Student Profiles
Kayla Batalha '22
"The literary and cultural studies program taught me to approach the world through a critical lens. They are so incredibly empathetic and welcoming. You aren't just learning the material, but you're learning their perspective, their experiences, and they're learning from yours."
Danielle Veith '19
"My professors didn't just know my name. They knew what I needed as a student, what I wanted to do, and how to work with me to get me there."
Elana Williams-Leonard '19
"Being a good teacher means being able to understand who your students are and what they need. That's one of the biggest things I learned at Bryant: how to understand others."
Where Our Students Go
Americorps
Bank of America
Boston College
Boston University
Cigna
Columbia University
Georgetown University's Edmund A. Walsh School of Foreign Service
Massachusetts General Hospital
Pearson
Penguin Random House
WGBH Boston
NASA
Northeastern University
Office of the Comptroller of the Currency
Ross Stores, Inc.
University of Connecticut School of Law