Politics, Law, and Society
About this Department
The Department of Politics, Law and Society provides students with unique, multidisciplinary opportunities to develop into civically engaged citizens who actively participate in their communities and are dedicated to promoting social, economic, and political change.

We are home to leading scholars and accomplished authors in the fields such as international politics, U.S. presidency, health law, sociology, and anthropology. The guidance and mentoring our faculty give students provides them the opportunity to study while developing individual interests and preparation to become impactful leaders in their communities.
Department Highlight
Grace Greenaway, Nilsa Lane, and Aly Snell join their co-author Prof. Nicole L. Freiner in presenting their research "The NSLP and Food Oppression in New England during Covid-19"
Previously presented at the New England Political Science Association Annual Meeting, their work explores how the National School Lunch Program (NSLP) plays a role in national food politics and policies that affect access to food and food security. During Covid, there was a sharp decrease in NSLP participation that potentially left school students without nutritionally balanced meals.
Engage with Faculty Experts
Our faculty bring a wealth of knowledge that offers unique perspectives on pressing global issues, historical contexts, and emerging trends. Their expertise will help you dissect ideologies, theories, and challenges and analyze the dynamics that drive change and shape our world.
The Washington Center
A partnership between Bryant University and The Washington Center in the U.S. Capital provides access to a variety of semester-long internships. Students participate in the work of leading think tanks, the White House, the Environmental Protection Agency, and more.
Research and Engagement Day
Students participate in Research and Engagement Day, a Bryant showcase that highlights student and faculty research collaboration, creativity and innovative academic accomplishments.
Inspiring Faculty
Our faculty are award-winning educators, mentors, and scholars, with expertise in fields including African music, comparative politics, international humanitarian law, race relations, sports studies, the entrepreneurial turn in the biomedical field, and women's history. Among them is:
Professor of History and Social Studies
Department Chair
Latest News
Politics, Law, and Society
Danielle Latty '24
"Bryant has taught me to be an exceptional leader, and we really emphasize experiential learning. I've learned how to lead a group of people and how to understand people, and I've taken that with me in everything that I've done."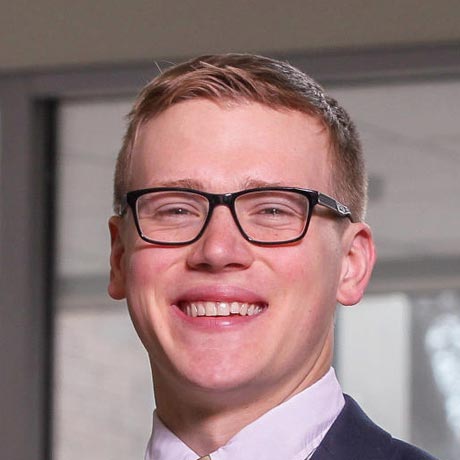 Shane Vyskocil '19
"A good education is about more than learning facts. It's about learning the best ways to solve problems and being able to apply that to all sorts of different scenarios. You need to be flexible to be successful in life."
Stephanie Lherisson '19
"I'm really passionate about equality and equity, and I want to help people find common ground, especially at a time when there's so much division. I want to be a voice for people who have no voice."
Where Our Students Go
Americorps
Covidien
Dell EMC
Bryant University
Federal Reserve Bank of New York
JP Morgan Chase
Lightspeed GMI
Office of the Comptroller of the Currency
Paramount Partners, LLC
Parker, Hudson, Rainer & Dobbs
Peace Corps
U.S. Department of State
Boston College
Brown University
Duke University
Georgetown University
University of Chicago
Villanova University
wake Forest University