Information Systems and Analytics
About this Department
In today's information age, managers rely on computer-generated information as critical resources in the decision-making process. And, organizations are seeking to harness the power and abundance of data to stay competitive.
We offer a Bachelor of Science in Data Science, which serves as preparation for a career in data science, an emerging field. Students may also choose a Bachelor of Science in Business Administration with a Concentration in Information Systems, a course of study designed to meet professional opportunities in the information systems and technology field. A minor in Information Systems is offered as well.
Whether students pursue a focus on solving problems with data or developing systems that meet company goals, they'll gain cutting-edge skills and knowledge—and prepare to become decision-makers and solution drivers in a constantly evolving field.
Department Highlight
Located in Bello 101, the Data Visualization Lab was made possible through a grant of equipment from Hewlett Packard as part of the Educause/HP Campus of the Future initiative. The lab houses virtual reality workstations and headsets, and a large array of wall-mounted digital displays. 
Real-World Learning Experiences
Students can apply theories learned in the classroom through real-world projects, capstone experiences, internships, and co-ops with the guidance of our faculty—which includes experts with advanced degrees in analytics, data scientists and consultants in the industry.
Professional Credentials
Students can be well-prepared for certifications in Python, Databrick, Tableau, Teradata, Blockchain, and other data and analytic applications.
Inspired Faculty
Our esteemed faculty includes award-winning educators and mentors who have had success in the fields they teach and in research. They include the author of a leading management information systems textbook, consultants to industry, and the 2017 International Association for Computer Information Systems Computer Educator of the Year. Among them is:
Professor of Information Systems and Analytics
Department Chair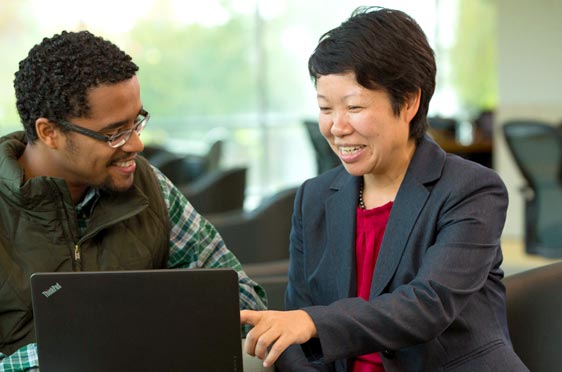 Latest News
Department of Information Systems and Analytics
Student Profiles
Breanna Tulig '20
"With data science, you can go into any industry that you want, and I like how Bryant sets you up to go in whatever direction you want within the field."
Jillian Donlon '20
"I can combine my computer and analytical skills with creative thinking in applying any kind of data into usable insights."
Where our students go
Graduates of Bryant's programs within the Information Systems and Analytics Department go on to prestigious graduate schools and are in demand by business, government, and nonprofit organizations.
Amica
Bentley University
Blue Cross & Blue Shield
Bose
CVS Health
Dell EMC
Fidelity Investments
FM Global
Hasbro
Lifespan
Massachusetts Institute of Technology
Oracle
Raytheon
State Street
University of Connecticut
Worcester Polytechnic Institute